Course
BPMN Fundamentals course: from zero to hero
What every budding BPMN specialist should know
If you and your organization are somewhat like any other on this planet, someone in your organization has already exclaimed: "We have to optimize our processes."


Usually, this sets in motion interesting talks about processes and how to optimize them. Next, you notice how everyone has a different notion of your company's processes. All this sheds some doubt on your process optimization efforts.


Great process descriptions are vital to create a shared understanding of your organization's processes. That's precisely what we'll tackle in this online BPMN Fundamentals course: building comprehensible, readable and good process descriptions with the Business Process Model and Notation.

Industry leading standard
The Business Process Model and Notation is a huge standard. It consists of more than 100 visual elements. Its goal? Creating a shared understanding of business processes through a common process modeling method and notation.
Beginner-friendly
No prior knowledge is required since it starts with the very basics of process modeling. The ideal course for starters and BPMN newbies!
Basics of process modeling
What is a process, and what do they look like in my organization?
Why should I be modeling my processes?
What is a BPMN diagram?


Providing an answer to these questions will help you understand the true meaning and value of BPMN for business analysts.
Deep dive into fundamental elements of BPMN
Activities represent the work to be done
Different task types and sub-processes
Gateways to model decisions, events and parallel activities
Repeating behavior with loops and multi-instances
Starting & ending processes
Understand events to add more complex scenarios to the process
Expose task allocation and responsibilities


A trip down memory lane
Additionally, we take a trip down memory lane by studying the history of the standard created by the Object Management Group.
Extensive material
This course will take you from zero to hero with high-quality videos, challenging tests, real-life assignments, tons of BPMN examples, and practical downloads to master BPMN in no time.
The goal of this BPMN course is clear - we want to provide you with all the essential modeling skills needed in practice to describe your companies' processes with the BPMN specification.
Ready? Set. Go!
BPMN Poster
BPMN Pro Poster
The Process Survival Kit
How to BPMN?
Manu De Backer
Professor - Trainer - Expert BA - Process Enthusiast - Smart Process Automation - Academic Director - Product Enthusiast
His focus on business processes is relentless, and as a consultant, he has helped many organizations in optimizing their process-oriented way of working. Driven by a love for great products and customer experiences, he helps organizations thrive in a complex business environment.
International Institute of Business Analysis (IIBA®)

Continuing Development Units and PD Hours: 7
Complete all the course content to earn your Continuing Development Units (CDUs) or PD Hours. The Master channel is an approved IIBA® Endorsed Education Provider for ECBA®, CCBA® and CBAP®.
Learn more about our cooperation here.
The Master Channel - Mastery Level Certificate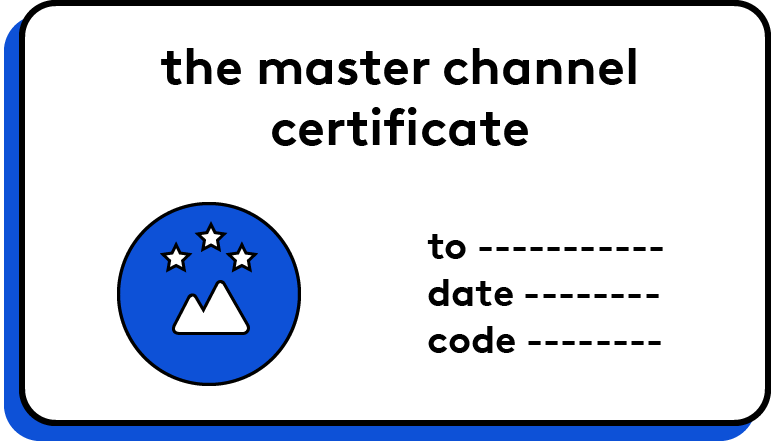 Complete all the content of a course and earn a score of 80% or higher on the exam to earn your Mastery Level Certificate.
Limited-time Black Friday offer is now available!