Course
Seven Steps to Process Modeling Glory
Knowing BPMN is one thing. Knowing how to use it in practice another.
I have noticed that most people can grasp the BPMN details. However, few are able to hold productive process modeling sessions. I'm on a mission to change this here.
Manu De Backer
teacher "Seven Steps to Process Modeling Glory"
This is one of the courses that I have been looking forward to the most. During recent years I have given many BPMN pieces of training and have led many consulting projects. I have noticed that most people can grasp the BPMN details, but this often did not result in good process modeling sessions.

In this course, we would like to give good – practical advice on building sound, clear and validated process models. And believe me, this advice will help everyone in their process modeling journey.

The course title "Seven steps to process modeling glory" reflects my ambition. I'm convinced that when you have basic BPMN knowledge and follow the steps & guidelines offered in this course, the result of your journey will be glorious!
Introduction
In this course, I start with a motivation on why we think a modeling method should be at the heart of any process improvement or process automation project.
7-step method
Tackle the biggest problem

Take care of providing space, time, supplies and team

Start with happy flow modeling
Add alternative scenarios & exceptions
Add cases
Finalize
Organize a Process Safari
Extensive materials
The course consists of 39 high-quality videos, accompanied by several module tests to interactively test the knowledge you accumulated.
The great thing about this method is that we tried it - many times. It just works!
BPMN Poster
BPMN Pro Poster
The Process Survival Kit
How to BPMN?
Sören van Vugt
Trainer - Business Architect
As a process enthusiast, he teaches various courses in the areas of Business Process Management, Business Process Architecture and Business Process Improvement and has helped organizations in improving their processes and introducing a process-oriented way of working.
Empty space, drag to resize
Manu De Backer
Professor - Trainer - Expert BA - Process Enthusiast - Smart Process Automation - Academic Director - Product Enthusiast
His focus on business processes is relentless, and as a consultant, he has helped many organizations in optimizing their process-oriented way of working. Driven by a love for great products and customer experiences, he helps organizations thrive in a complex business environment.
International Institute of Business Analysis (IIBA®)

Continuing Development Units and PD Hours: 4
Complete all the course content to earn your Continuing Development Units (CDUs) or PD Hours. The Master channel is an approved IIBA® Endorsed Education Provider for ECBA®, CCBA® and CBAP®.
Learn more about our cooperation here.
The Master Channel - Mastery Level Certificate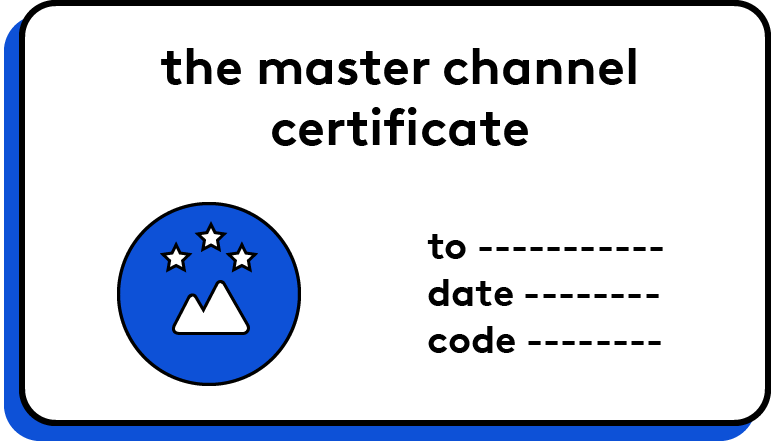 Complete all the content of a course and earn a score of 80% or higher on the exam to earn your Mastery Level Certificate.
Limited-time Black Friday offer is now available!